By MICHAEL MCCULLOUGH          May 31, 2013
MoMA Exhibition, "Henri Labrouste: Structure Brought to Light"
Very little in museum exhibitions of contemporary prints and photographs makes any deep impression on me these days. That is a confession of something lacking in myself, but it is not, as it may appear at first sight, a reason for ignoring the exhibition schedules entirely. MoMA's special exhibition, "Henri Labrouste: Structure Brought to Light," is a fascinating study of the evolution of architecture in the 19th Century from neoclassic idealism to modern rationalism, a transition accomplished through a re-interpretation of the ancient art forms, a reminder of why the study of Antiquity is still important today.
Henri Labrouste was a French architect who, from 1824 to 1830, studied at the French Academy in Rome, where he developed his ideas on "romantic rationalism" in architecture. Before Labrouste, the Beaux-Arts school insisted that architectural design should conform to certain ideals of structural form agreed upon by the Academy. Labrouste believed that architecture should reflect the needs of society, and his work reflects this rationalism by incorporating the technical aspects of industrial society in its design. Labrouste's reputation rests on his Bibliothèque Sainte-Geneviève, Paris (1838–50), a superbly clear design in which an elegant cast iron structure seems to have been slotted into the cage of masonry: it was one of the first monumental, rather than utilitarian, public buildings to have an exposed cast iron frame in the interior. The masonry exterior is a powerful Cinquecento essay employing a range of semicircular-headed windows to illuminate the great library space inside. His work on the Bibliothèque Sainte-Geneviève placed Labrouste in the highest echelons of French Government architects, and between 1854 and 1875 he created the iron and glass interior of the Reading Room at the Bibliothèque Nationale in Paris. In consequence of these achievements, Labrouste was one of those rare artists whose works became a benchmark for aesthetic design, both in France and around the world. And Labrouste's libraries are, to me, two of the most beautiful spaces in all of Paris.
My first encounter with the Bibliotèque Sainte-Geneviève was not in person, but through the eyes and ears of Stephen Daedalus in Chapter Two of James Joyce's Ulysses:
Aristotle's phrase formed itself within the gabbled verses and floated out into the studious silence of the library of Saint Genevieve where he had read, sheltered from the sin of Paris, night by night. By his elbow a delicate Siamese conned a handbook of strategy. Fed and feeding brains about me: under glowlamps, impaled, with faintly beating feelers: and in my mind's darkness a sloth of the underworld, reluctant, shy of brightness, shifting her dragon scaly folds. Thought is the thought of thought. Tranquil brightness. The soul is in a manner all that is: the soul is the form of forms. Tranquility sudden, vast, candescent: form of forms.
As a young adult I visited Paris with the intention of photographing French architecture, and I remember being mesmerized by the quiet strength and utter accessibility of the Bibliotèque Sainte-Geneviève.  What I failed to realize at the time- but know now after seeing MoMA's exhibition- is that Labrouste's perspective on rationalism was not a revolutionary thought but an evolutionary one gained by re-interpreting the meaning of ancient Etruscan architecture.
The Beaux-Arts School in France in the 19th Century was modeled on the study of classical antiquities, so there was a great emphasis on maintaining classical forms of structure. Labrouste, as a young student, decided to look at the classical forms with a fresh eye. In his Master's thesis on the Greek temples at Paestum, Italy, Labrouste was the first to theorize that the architecture at the site had evolved from the classical Greek architectural styles introduced by Greek migrants. The Beaux-Arts school taught that the buildings at the site that didn't meet the perfection of classical Greek style must have been earlier and poor attempts that missed the mark. To Labrouste, the structures at the site, all built within 100 years of each other, marked the localization of techniques imported from Greece; Labrouste argued that the building that closely resembled classical Greek proportions was build first and the other structures came later, as the buildings evolved from a process of adaptation to the new colonial environment at a time when the local inhabitants "having grown more powerful, wished to create a new architecture." These thoughts on the evolution and adaptation of architecture informed later architects on the purpose of their craft and are still with us today.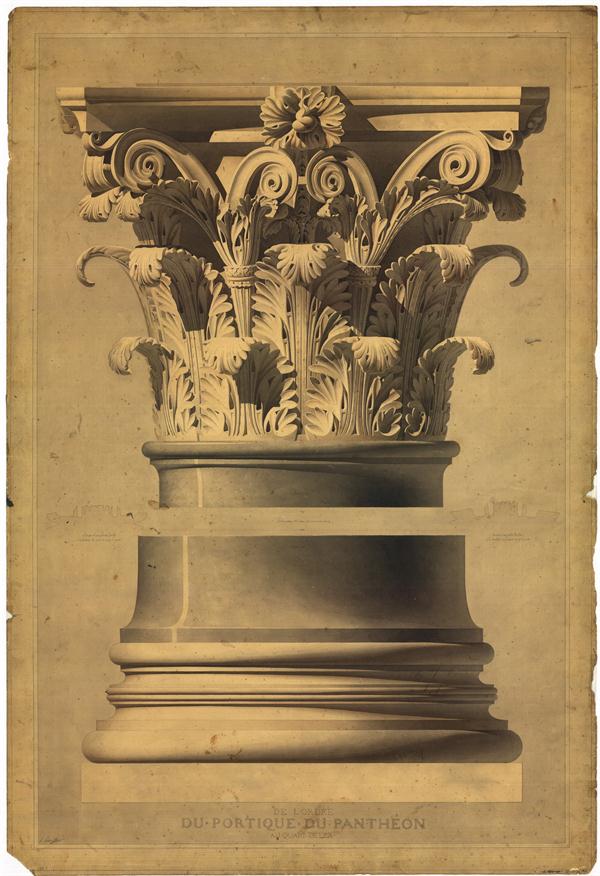 MoMA does a superb job of underscoring Labrouste's contribution to modern architecture, but equally impressive is the reflection on Labrouste's study of ancient design and how the ancients helped Labrouste find modernity. We're reminded how the study of ancient art can help form great minds. It's easy and sometime convenient to associate the collecting and study of ancient art with the wealthy class, but in reality the middle class is the main beneficiary of our museum collections of ancient art. Wealthy American student can afford to visit Italy and Greece on extended stays, and ancient art is readily accessible to them in situ, much the same as it was for Labrouste. Middle class students in America access ancient art by visiting museums and working with academic collections, and only on occasion do they travel abroad. And let's not make the mistake of thinking that ancient art can be studied through photographic images; the exhibition also tells us how important it is for students to view ancient art in person. On display is Labrouste's pen and ink drawing of a capital and base of a column from the Pantheon in Rome, an amazing study of structure and light that has an almost photographic quality to it; never could this work have been done without him spending countless hours viewing the site. Likewise, in his drawings of Paestum, the rendered shadows of feathers from arrows and the shadows of shields lashed to the marble columns are drawn so elegantly that it's almost impossible to believe they were done by a human hand.
Recently, American museums have been pressured to return ancient artifacts to their source countries due to theft and misappropriation. While these institutions must comply with the law, some thought should be given to safeguarding the collecting of ancient art, as to insure that future students have access to broad collections of ancient art without having to travel thousands of miles to see them. As history teaches, the future will always depend upon the reconsideration of the past.
______________________
"Henri Labrouste: Structure Brought to Light"
Until June 24, 2013
The Museum of Modern Art, Special Exhibitions Gallery, third floor